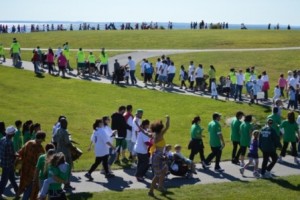 This past Sunday, September 16th over 1,000 people walked the 3.5 loop around Fort Taber in support of the Schwartz Center for Children.  The 24th annual Walk fundraiser brought in over $100,000 that will go directly to vital programs at the Schwartz Center.
Team Noah, organized by the Fernandes family, was by far the largest team with over 150 teammates walking in green t-shirts.  The team is named in honor of Noah Fernandes who is a student at the Schwartz Center.  Team Noah has been the leader in the fundraising efforts for a couple of years, and this year again took the top fundraiser prize with over $15,000 in pledges collected.
Team Remax Right Choice, organized by Dawn and Ron Rusin, came in close behind Team Noah; raising over $12,000 in just a few short weeks.  The Rusins were moved to action after visiting the Schwartz Center for Children on the "Paris Tour" only 3 weeks ago.
"Our entire office was moved by what the Schwartz Center accomplishes on a daily basis.  We are excited about giving back to the Schwartz Center and the communities we serve. We were ecstatic that we could raise over $12,000 in 3 weeks! It was easy getting sponsors and donation when you're dealing with a class A organization", stated Ron and Dawn Rusin.
"We are so touched by the support from our community. Our community understands that support of events like this are what enables us to affect such change in the lives of those children most in need. We can't say thank you enough," said Mary Hodgson, CEO
The Schwartz Center for Children's mission is helping children achieve their greatest potential. It is able to do this through strong community support, the United Way of Greater New Bedford, and fundraising events such as the Annual Walk.
The Schwartz Center is a not-for-profit organization serving children with a variety of developmental delays and disabilities from birth to age 22.  Services include a Day School, an Early Intervention Program, and Outpatient Rehabilitation Services, Regional Consultation Program, Pediatric Specialty Clinics and a variety of other programs.
For more information about the Schwartz Center for Children, go to: www.schwartzcenter.org or contact the Development office at (508) 996-3391 x 427 or walk@schwartzcenter.org.