Kevin Nunes has a lot to say.  He especially has a lot to say about New Bedford.
The heavily tattooed 29-year-old bassist is in a band called Weld Square. The band is named after the infamous neighborhood where Interstate 195 and Route 18 cross that is infamous for being the city's hub for prostitution, as well as being a haven for poverty, drugs, and crime.  But Kevin isn't trying to dwell on the negatives.
Kevin said that the name came to his bandmate and lead singer/guitarist Joe Froias when they were practicing a cover of the Ramones' song entitled "53rd and 3rd," which is about prostitution.
"We were in the middle of learning it, and we didn't even have a name yet.  Joe was like, 'this song is exactly like Weld Square.  We have a 53rd and 3rd in New Bedford, and it's Weld Square.' When he told me [that we should name the band Weld Square] it was like he punched me in the face.  I was like, 'that's it right there'.  Our other band mate Derek (Brasseur) agreed on it, and we were all just floored," said Nunes.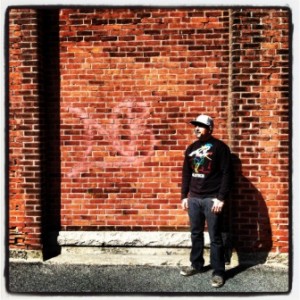 Though the name would seem to refer a negative region of the city, Kevin doesn't quite see it that way—he sees it as badge of sorts, for who he calls  "everyone else who wears the city on their sleeve."
"I've always felt a certain connection with New Bedford and Downtown—growing up in the West End (he and Derek grew up both living on Ryan St.) and being able to escape to Downtown as a young teenager, we got a full-on spectrum of just how amazing the city is.  That being said, we've always been attracted to the dirt of the city, to the other end that no one wants to talk about, so when the whole Weld Square thing came up, it was just like, this is the name or project that we can put our selves fully behind, because we believe in what it actually is."
Nunes claims he has a hard time describing the three piece's sound because he doesn't want to corner the band into a particular genre, but says, "we play heavy, we play hard, we play with a lot of passion."
When Nunes isn't working on music with Weld Square or working at Cork as the valet/bouncer guy, he spends some of his time taking pictures for his Instagram account.
Most or all of Kevin's photos revolve around the city, whether it's pictures of New Bedford's architecture, snapshots marking the city's history, or shots of what he calls #peopleofnewbedford (candid shots of people who daily roam the city's streets, which seems to be catching on with many local instagram users), it can all be pretty entertaining for someone else who lives and breathes the city like Kevin does.
He says that taking photos is his "natural obsession," and though some would say that he is objectifying those who are less fortunate through some of these pictures, he disagrees.
(Side note: While we were discussing his Instagram account, I spot one of Kevin's subjects that I recognized from one of his posts that very morning, an odd looking woman with an unsettling amount of hair on her face.)
"Take a look at these people.  You might just drive by and not look at them, but by (me) snapping a photo of someone like Arthur (a legendary walker of the streets of New Bedford), you take a look into his face and see what he's seeing.  These people, whether or not they made the decisions to be in their position, are obviously less fortunate than us, and there's got to be something done about it (the poverty within the city)," said Nunes.
Some might call Kevin's brash personality and Internet posts lewd (he regularly posts about his sex life on Facebook and Twitter), but for those who can get past some of the vulgarity and crudeness, he really has some meaningful things to say about New Bedford and the transformation of the Downtown scene that is currently underway, and he is certainly proud of what the city and especially what Downtown has become in recent years.
"There's a few people in the city doing everything they can to make the city happening.  When the construction is finished (on Route 18), it's going to be pretty epic.  It's going to be our new playground," said Nunes.
"The positives greatly outweigh the negatives of New Bedford.  We're sitting here in this tiny little historically massive city.  You can live anywhere around here and experience the most beautiful women, the most unique artists, all types of different cuisines, and expression from all different angles.  Granted there are a lot of bad neighborhoods and bad people, but we're (he and Weld Square) trying to let people know that we're not pushing prostitution or anything negative about New Bedford."
As for Weld Square, Kevin says that they are currently in the process of writing their first full-length album, entitled "Capricious Youth," which they expect to be out sometime in the fall.
He also said that they recently took part in a recording for "Sound Check," which is a new program on Fall River Public Access that focuses on area bands and musicians.  "We did the entire EP (La Femme De Mason, which came out earlier this year).  It was awesome," said Nunes.
Nunes said that he hopes the future will bring bigger and better things for his band, even if that means leaving the city which he loves so much.
For those interested in following Kevin on Instagram, his handle is @kevnunes, and information on Weld Square, go to http://www.facebook.com/weldsquare.