Recently, The Standard Times reported that several food pantries were dangerously low on food items with some even forced to close their doors to hungry visitors. The story boosted the food stocks temporarily, but more can be done for the long-term. I'm certain most of us have a few items that we can spare sitting in our cupboards. Also, the next time you go grocery shopping, you can spend a few extra dollars and pick up a few additional items. If you see some deep discount items buy a bunch and stop by the closest food pantry on our list on your way home. You can also donate money so that the pantries can purchase perishable items they need the most. Your generosity will go a long way.
I coordinated with the Mayor's office and they provided me a list of food pantries that provide services throughout New Bedford. I also discovered a Southcoast, Massachusetts food pantries list that provides details on pantries in New Bedford and the surrounding towns. I suggest calling ahead to confirm the drop off times, what they accept and most importantly what they need the most.
City of New Bedford Provides Pantry List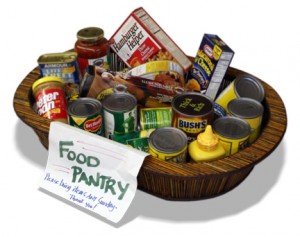 Mercy Meals and More
634 Purchase Street
508-728-1489
Mon—Thurs 7-7:30am
American Red Cross
508.996.8286
593 Kempton Street (Hill St. entrance)
Thurs 1-6 p.m. (available 1x per month). Pic. ID, proof of income, rent receipts, proof of address, ID for  household members required.
Braz/Bean Community Center
508.979.1737
360 Coggeshall St.
Mon—Thurs 9-1 p.m. (available 1x every 30 days). ID and/or MA Health card required.
Catholic Social Services
508.997.7337
238 Bonney St. (in back of O. L. of Mt. Carmel R. C. Church)
Wed. & Thurs. 10-12 p.m. (available 1x every 30 days).  Min. 18 years-old, proofs of income & residency, pic. ID, MA Health ID required for all children. Bread, non-perishable foods and fresh produce.
Grace Episcopal Church
508.993.0547
133 School St.
Mon. & Fri. 9:30 – 10:30 a.m. (available 1x per month / 12 x per yr. Photo ID required and children's insurance cards.
Immigrants Assistance Center
508.996.8113
58 Crapo Street
Wed. 10-2 p.m. ( available 1 x per month) Pic. ID and proof of income, basic application required, please call in advance.
MO Food = Life Pantry
508.992.5978
724 Pleasant Street Wed. 10-Noon (available 3 x every 30 days). For adults, picture ID & proof of income, ID for family members.
Mobile Loaves and Fishes
Food/clothing available at sites across the city: Sat: Salvation
Army parking lot 11:30 AM, Th: NB Main Library 12:00 PM,
Fr: PAACA 5:30 PM, Tu and Th: NB Bus Terminal 5:30 PM
P.A.C.E.
508.999.9920
166 William St.
Mon-Fri (new walk-ins or received no service w/in past yr.: 9-11, all others by appointment). Available 1x every 3 months, if PACE client, 1x per month. Referral, Picture ID & verification of dependents required.
The Salvation Army
508.997.6561
619 Purchase St.
Mon-Fri 8:30-Noon & 1-3 (available 1x every 3 months). Required: ID for household members & proof of residence for appt. 3-5 days of food / clothing vouchers for fire victims only.
St. Anthony's Church
508.993.1611
Nye St. Entrance (enter through church basement door). Thurs. @ Noon (1x every other week) Picture. ID and MA Health.
Missionaries of Charity
508.997.7347
Appt. required. Accepting referrals from service providers only.
St. Martin's Church
508.264.1520
136 Rivet St.
2nd and last Saturday 10-11 and last Tu 5-6, (1 x per month).
Veterans Transition House
508.991.8791
20 Willis St.
Veterans only! (1 x per month) Copy of DD214 and proof of residency required Contact: Moe Mann X 24.
St. Paul's United Methodoist Church
884 Kempton Street
New Bedford, MA 02740
Tel. 508-993-0614
Mobile Loaves Fishes is a mission of St. Paul's Church
New Bedford Guide Facebook User Suggested Pantry List
Our Lady of Mount Carmel Parish
230 Bonney Street New Bedford, MA 02744
Phone: (508) 993-4704 Fax: (508) 991-5536
Did I miss a food pantry? Post a reply and we'll add it!