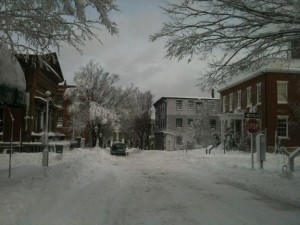 Mayor Jon Mitchell released the following statement addressing the impact of the 2013 Blizzard and the City's response efforts over the past 24 hours. A state of emergency in the City of New Bedford remains in effect. The after-effects of the winter storm continue to present a serious threat to the safety of City residents.
The City's Emergency Response
The storm has been a significant burden on the resources of public safety agencies across City government. First responders have answered hundreds of calls for assistance in the past twenty-four hours. During a twelve-hour period overnight, all available units of the New Bedford Fire Department were deployed to the field, responding to nearly 200 incidents, including at least 90 downed-wire reports, four fires, a roof loss, and more than 50 medical calls. The New Bedford Police Department and Emergency Medical Services received more than 600 calls for assistance in twenty-four hours. The City's Emergency Management staff continues to oversee recovery efforts.
Roadways
Residents are urged to not to travel. Plowing efforts continue throughout the City and secondary streets may be impassable with snow or downed power lines. Most main travel routes have been cleared.
In an effort to expedite the clearing of roads, the City has taken the step of contracting with private construction companies to assist City crews. The City's entire fleet of front-end loaders and other heavy equipment was deployed to remove snow and assist a number of police cruisers, ambulances, plow trucks, and other vehicles that became stranded overnight. Heavy equipment from the Department of Public Infrastructure and the Department of Public Facilities was complemented by two front-end loaders supplied at no charge by ABC Disposal Service and one front-end loader supplied by Greater New Bedford Refuse District.
There has been widespread compliance with the city-wide emergency parking ban. The public cooperation proved extremely helpful to City plow crews, who have been deployed continuously for more than twenty-four hours. The parking ban will remain in effect until at least noon on Sunday, February 10, and may be extended further as needed.
Power Outages
The City has been in communication with NStar to restore power beginning with critical facilities, including New Bedford Police Headquarters and the New Bedford Cable Access station. The police headquarters remains on generator power with the capacity to operate for an extended duration. The Cable Access station remains off-air until power can be restored.
According to NStar, as of 4:30 p.m. today, 23% (10,700) of NStar customers in New Bedford are without power. This figure compares with neighboring communities of Dartmouth and Fairhaven where 70% of customers are without power. Many SouthCoast communities further east are experiencing near total power loss.
You can report an outage to NSTAR online (http://www.nstar.com/residential/outage_reports/default.asp?browser=d) or by phone at 800-592-2000. You can also tack outages here: http://outage.nstar.com/outage/outagemap.aspx.
Low Temperature Concerns
Low temperatures remain a concern overnight. The National Weather Service in Taunton is forecasting a low temperature overnight in the City of 13 degrees, with wind chill values approaching zero degrees. Residents without power may wish to stay with neighbors, friends, or family. Residents are urged to check on the elderly and those living alone. The City opened the Keith Middle School at 11 a.m. this morning as a warming center/shelter.
The Pilgrim United Church (634 Purchase Street) will also remain open for unsheltered residents. Both the Keith Middle School and Pilgrim Church are equipped with staff, food, and cots.
Decisions on Possible Closures of City Offices, Facilities, and Schools
A decision will be made on Sunday, February 10 as to the reopening of New Bedford City Offices and Schools, including the Airport, Zoo, Senior Centers, and Libraries. Residents are encouraged to monitor the City website, WBSM, and www.SouthCoastToday.com for announcements.
SRTA Services Remain Suspended until Monday morning
Southeastern Regional Transit Authority Services will remain suspended until the resumption of regular weekday service on Monday morning, February 8. Residents may call 508-999-5211 for information about the status of SRTA services.
Important Tips for Residents and Business Owners
Residents and business owners are encouraged to review the City's Guide to Snow Storms and the series of Winter Weather Tips available on the City homepage (www.newbedford-ma.gov), including special tips on power outages, roof collapses, and storm drains.
New Bedford Hurricane Barrier Navigation Gates
The navigation gates were opened and closed by the Army Corps of Engineers as necessary over the past twenty-four hours to manage tidal flows and storm surge. Any future closings will be broadcast by the Coast Guard on marine radio channel 16 and 22 Alpha. The street gates on East and West Rodney French Boulevard were not closed during the storm.
New Bedford Regional Airport Remains Closed
The New Bedford Regional Airport remains closed until further notice. All scheduled airline flights at New Bedford Regional Airport have been cancelled. Passengers should check with their airline regarding rescheduling flights.
Important Emergency Contact Numbers
· To report a downed power line, medical, fire or other emergencies please dial 911.
· NSTAR is prepared to address and damage and outages resulting from the storm and encourages customers whose electric service is affected to call 1-800-592-2000. NSTAR strongly urges people to stay away from all down wires and to report them immediately.
· To report snow removal issues on city streets:
Residents North of Interstate 195 may contact the Department of Public Infrastructure at (508) 991-6150
Residents South of Interstate 195 may contact the Department of Public Facilities at (508) 991-6133.
· New Bedford Police Department can also be reached on its Non-emergency line at (508) 991-6350
· Please visit the City's website at www.newbedford-ma.gov for more information and updates from the City of New Bedford regarding the snowstorm.