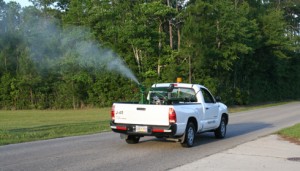 The City of New Bedford and the Bristol County Mosquito Control Project remind North End residents that truck-based spraying to address the EEE and West Nile Virus threat is being conducted tonight (Monday, Aug. 20th) between 8pm and 11pm in areas of the City North of Tarkiln Hill Road. Residents are advised to stay indoors, close windows, and bring pets inside. The anti-mosquito spray leaves no harmful residue, so there is no need to bring children's toys or patio furniture indoors.
The State Department of Public Health continues testing for positive EEE and WNV and those results will determine if additional spraying is necessary. In the mean time, residents are encouraged to consider rescheduling outdoor gatherings to earlier in the day, wear long sleeves and pants, use repellant, and drain any standing water in yards.
Residents with questions can also contact the Bristol County Mosquito Control Project at 508-823-5253.
Update. We spoke to the Bristol County Mosquito Control Project. At this time there is no plan to spray south of the Tarkiln Hill Road.
Update #2. From the Mayor's Office: "The City does not decide areas targeted for spraying alone but relies primarily on recommendations of the Bristol County Mosquito Control Project and the State Department of Public Health. BCMC's recommendation is to target the areas where traps test positive for EEE. The trap where EEE was confirmed last week was located outside the industrial park in the City's North End. No other traps in the City have tested positive for EEE. The North End is also much less urban and so contains a much larger area of mosquito habitat."