The Lil' Monkeys Kid's Wrestling & Grappling Club is the latest offering from the New Bedford Fitness and Martial Arts Center. The classes will run every Tuesday and Thursday from 4:30 – 5:30 p.m. The program which is a combination of wrestling and submission grappling (no striking) is for children that average 7-15 years of age and between 45 to 140 lbs. Your child will develop physical, mental, and social skills in a positive, safe, and secure environment by coaches with decades of experience. All the while having fun! Objectives may range from self-defense, health, fitness, to losing weight, competing or to learn a foundation for MMA classes in the future.
What is grappling, or wrestling?
All-In Wrestling is the specific style that is taught at the New Bedford Fitness and Martial Arts Center. The two elements that comprise All-In Wrestling are amateur wrestling and submission grappling. Amateur wrestling is a highly athletic endeavor where the athlete works for takedowns and whose goal is to pin his opponent. It is an athletic based style, where the use of athletic attributes like strength, speed, power, explosiveness and cardiovascular endurance are used as "weapons" to back up technical ability. Specifically speaking, Folkstyle and Greco-Roman are the elements of the wrestling aspect.
There are a variety of submission grappling styles around the world like Brazilian Jiu Jitsu, Judo, Sambo, Catch-As-Catch Can, etc. The Lil Monkey program takes the best from each in and synthesizes them into an effective style. The idea behind a majority of submission grappling styles is that a smaller, weaker, slower opponent can defeat a bigger, stronger, faster opponent through the use of high level technique and submissions. Submissions are attacks on a joint such as an elbow, wrist, knee, ankle, etc. or a strangle or choke hold.
While this sounds intimidating these submissions are SLOWLY applied and NEVER with the intent of injury. Once a submission is applied the opponent simply taps with a hand, foot or verbally and pressure is released. In the Lil' Monkey Program there are NO neck cranks, slams, or joint attacks to the ankle or knee. These submissions are reserved for the teenage and adult classes.
What are the benefits?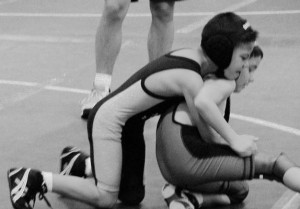 Benefits of learning to wrestle are three-fold:
1. Physical
Your child will burn fat, develop muscle, increase cardiovascular endurance and health, increase strength, hand-eye co-ordination, reflexes, and overall athleticism.
2. Mental
He or she will develop certain mental and psychological traits that will carry over into their personality and everyday life such as patience, determination, goal setting, doggedness, competitive nature, perseverance, confidence, self-discipline, mental toughness, connection with emotions, work ethic, responsibility, and more.
3. Social
Lastly, your child will develop social skills through interaction with an authority figure and peers. Wrestling by its nature is based on close proximity and over time your child will naturally develop and/or be coached to grow socially. He or she will develop lifetime friendships, learn to converse in two directions, to share, give and receive, form camaraderie, learn how to support, teamwork, empathy, sympathy and more.
How are the classes run?
The Lil' Monkey Program is a reward-based program based on positive re-enforcement. This is the chosen methodology utilized by the coaches of the Lil Monkeys Program. Positive transfer – successful learning that translates into ability – happens in this type of environment and kids progress faster using encouragement, motivation, leverage, and confidence boosting dialogue. Kids are willing to take on greater challenges when his coach and peers are telling him or her that she can do something and feels supported.
The program is called Lil Monkeys because children are broken into weight classes which are labeled as follows:
45-50#: Spider Monkey
51-55#: Capuchin
56-60#: Marmoset
61-70#: Monkey
71-80#: Baboon
81-90#: Chimpanzee
91-99#: Orangutan
100-119#: Gorilla
120#+: Silverback
This not only dramatically cuts down on injuries but by removing the weight advantage the kids will have more success and therefore a more rewarding experience. Of course until the number of kids participating grows, there may be an absence of training partners at the same weight. In this case kids will be paired up with a monkey at the next closest weight with the heavier kid lightening his intensity and with the coach's monitoring.
Each child will not only be matched up by weight class, but by common objectives. A child who is taking up wrestling to lose weight and have fun, may not necessarily be paired up with a kid who wants to compete. Exceptions CAN be made, if your child has a passion to wrestle but is under the age or weight requirement, as long as the child who doesn't meet the age requirement is capable of listening and following directions.
What is a typical class like?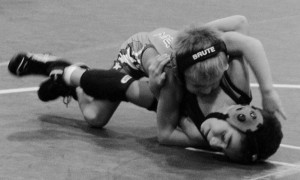 The classes are one hour long and consist of 3 phases, a primer (warm-up & review), drilling, and scrimmaging. Wrestling is hard work and by it's nature more intense than many other sports. While the PRIORITY of the coaches (and in their best interest) is to prevent injuries, they are an unfortunate part of wrestling. Minor injuries like bumping heads, falling incorrectly, twisting an ankle, or getting a fat lip may result. This is not to scare a parent, but it would be irresponsible and to place it bluntly, be a lie if a coach were to say that there will be no injuries.
The Lil Monkeys coaches are not only always keeping an eye on the training intensity, but nipping scenarios that could create injury in the bud. Having said that, a child can never reach his or her truest potential without challenges. Wrestling is a rite of passage par excellence when it comes to this.
How much does the program cost?
There are four different memberships available. There are no annual commitments or contracts and all new students get the first week free. They are as follows:
Bronze ($25/month) – One class per week. Perfect for those with a limited schedule or budget.
Silver ($40/month) – Two classes per week.
Gold ($60/month) – Three classes per week.
Platinum ($100/month) – Unlimited classes per week. Platinum members also get discounts beverages, retail items, seminars and privates.
In addition, the New Bedford Fitness & Martial Arts Center is looking to develop a "Sponsorship for Hardship" program to help waive the majority of the cost. The referral program is another way to defer the membership cost. Details on these two aspects can be inquired about at the facility.
The Lil' Monkeys Kid's Wrestling & Grappling classes will run every Tuesday and Thursday from 4:30 – 5:30 p.m. To sign your child up, contact us on the web, by phone (774-202-2297), or e-mail (kagekontrolmma@gmail.com), or visit us on 665 Orchard Street in New bedford. Check out our website and follow us on Facebook!