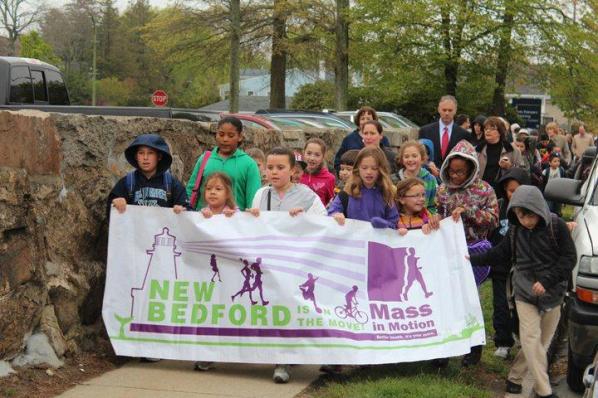 Wednesday, October 3rd, New Bedford will be participating the International Walk and Bike to School Day. This is a wonderful day for parents, grandparents and family to bike or walk with their child. Also, ask your local school if they are planning any special event on this day. Mass in Motion New Bedford hopes to see you all participate next Wednesday!
This years "featured" school will at Normandin Middle School on 81 Felton Street. Hundreds of students from Normandin Middle School will be walking and rolling to school with Mayor Jon Mitchell, Principal William Burkhead, Normandin Health Educator Darcy Aungst, New Bedford Health Department Director Dr. Brenda Weis, City officials, Mass in Motion New Bedford Coordinator Pauline Hamel and the Mass in Motion Kids team, as well as parents, teachers, school staff, community leaders and Mass in Motion New Bedford coalition partners.
The event will begin at 8:15 a.m. with Mayor Mitchell, Normandin Middle School students, parents and community leaders. Following the walk, we will hear a few brief speeches about the importance of Safe Walking and physical activity throughout New Bedford.