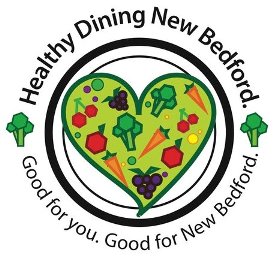 In January 2009, the Mass in Motion initiative was launched to promote wellness, and to prevent overweight and obesity throughout the state of Massachusetts. Today, more than half of the adults, and almost one-third of high school and middle school students in Massachusetts, are overweight or obese. In the past ten years alone, the percentage of adults in Massachusetts with diabetes has almost doubled!
New Bedford Mass in Motion stresses the importance of healthy eating and physical activity in response to Governor Patrick's call to action to combat obesity. The goal locally is to make New Bedford a healthier city, whose residents eat better and becomes more active at home, work, and throughout the community.
Healthy Dining New Bedford (Facebook), a New Bedford Mass in Motion initiative, is a voluntary program dedicated to providing simple, healthy nutritious lifestyle options. Our goal is to make the healthy choice the easy choice. Our City celebrates our diverse ethnic community and enjoys a variety of excellent restaurants for all to enjoy, but consumers may be overwhelmed with so many food choices. In order to promote better nutrition among the people who live, work and visit the City of New Bedford, Mass in Motion has launched a voluntary Healthy Dining New Bedford Program. Any restaurant that offers nutritious meal options and seating in a healthy environment is eligible to participate.
To achieve a Healthy Dining New Bedford status, restaurants must complete a simple, one-page application, which includes providing current menus (both adult and children) that show offerings such as: vegetables/fruits as side dishes; indicating gluten-free, vegan, reduced salt/sugar; offering portions in smaller sizes; carrying local/seasonal menu items; water or low-fat milk for children, etc. Restaurant will be asked to meet at least four Healthy Dining criteria for adults and two criteria for children. In addition, restaurants must be in compliance with all New Bedford and State Health Department sanitary codes and all applicable licensing and permit provisions. To receive an application contact Pauline Hamel at HealthyDiningNewBedford@newbedford-ma.gov.
Successful applicants will receive a Healthy Dining New Bedford window decal and recognition for their efforts, including access to free marketing materials and  promotional events throughout the year. We are currently in the process of collaborating with AHA! Night to provide a Healthy Dining New Bedford Progressive Dinner experience on May 10th, so stay tuned for details!
Look for the Healthy Dining New Bedford decalsaround the City, and be sure to patronize our HDNB restaurants! Healthy Dining New Bedford seeks to promote healthy eating among all people who live, work, visit and play in the City of New Bedford.
List of Healthy Dining New Bedford Qualified Restaurants
Café Arpeggio
Café Vila Franca
Center Cafe
Churrascaria Novo Mundo
Cork Wine & Tapas
Commons (formerly Ginger Grill)
Destination Soups
Freestone's City Grill
Lebanese Kitchen
Pizan's Pizza
Rose Alley
St. Luke's Hospital
Waterfront Grille