"What!?" you are thinking. "How could you POSSIBLY make a promise to me like that, Stephan Rose??? I believe what Mark Twain said 'The only two certainties in life are death and taxes'!"
Well, although Mr. Twain said many wise things in his time, stop being such a Negative Nancy. I CAN virtually guarantee you will have a great time at ANY AHA! Night, with a little planning, forethought and my general good advice. Let's dive in, shall we?
Let's start from the beginning: You can't enjoy AHA! Night, if you miss it. I, myself, didn't begin to attend AHA for years, simply because I forgot WHEN it occurred. It's a good idea to circle the date on your calendar, program a reminder in your phone, etc. so you can be notified when the second Thursday of the month rolls around. Ahanewbedford.org has a mailing list that gives you plenty of notice before the night arrives; as well as informing you of the specific events that will take place! You can also find AHA Night on Facebook, Twitter and Flickr.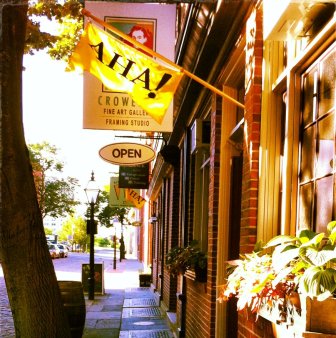 Figure out exactly what you like being part of. What do you enjoy doing? Live music? Viewing art? Learning history? AHA stands for "art, history and architecture", so that will be a part of every night. By knowing what your interests (or the interests of the group you are with) are, you can make informed choices ahead of time and see things you know you will enjoy.
AHA goes from 5 to 9, be early. That may not always be possible, but it is better to be there when things start, grab a schedule (available at the downtown library, and most AHA participating locations), and decide what your group would like to see and when it is.
Eat before or after. Good news! Downtown has quite a variety of good restaurants. BUT! Waiting for your food to arrive and then eating it can be quite time-consuming, especially if the restaurant is packed with other AHA-goers. If you eat DURING AHA, you'll probably miss something enjoyable. My advice would be to eat before AHA, whether at home or downtown (please make it downtown..NB needs your money!). Quite a few establishments close before AHA ends, so before is better. If you see the schedule and nothing appeals to you at say, 7p.m., that would be the time to eat up and chow down.
Your enjoyment level is directly proportional to WHO you are with!  Okay, it's sad I have to say this but, if you haven't learned during childhood this lesson, I'll teach it to you NOW: if you are hanging out with killjoys, don't expect AHA! Night to MAGICALLY make your night fun. Think of who you spend most of your free time with: what words would you use to describe them? Carefree? In love with life? Childlike in wonder? A joy to be around? Miserable? Chronic complainers? NEVER satisfied? Always expecting things to go wrong?
Personally, I have a better time alone at AHA then with…well, whiny little bitches (Can I say that here? Is this guide family-friendly? Whoops.) Of course, the BEST time is had when you are with people up for adventure, new experiences, and are fun to be with. Discuss with your friends what activities you will all like,and go forth and enjoy, my son.
I hope this has been very informative for you (as if it could be anything BUT that.) See you downtown next 2nd Thursday of the month for a night to remember. September's AHA! is this Thursday, September 13th, 2012. Full list of events here: http://www.ahanewbedford.org/calendar.html
Special thanks to Josh Souza for use of his cover photo!