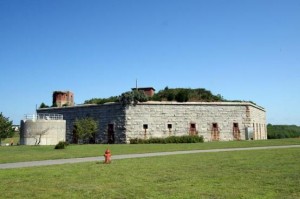 Fort Taber~Fort Rodman Historical Association, Inc., (FTFRHA) will host the First Annual Autumn Revelry, a fundraiser to benefit FTFRHA and the Fort Taber-Fort Rodman Military Museum.
The inaugural event will take place on Saturday, October 13, and will feature a buffet dinner catered by M&C Café. Dinner will include a fall salad, chicken with Madeira sauce, garlic mashed potatoes, a fall vegetable and rolls. The dinner will take place at the Fort Taber Park Community Center with seatings available at 5 p.m., 6 p.m., or 7 p.m.
The Fort Taber ~Fort Rodman Military Museum will be open from 5 to 9 p.m. that evening. Dinner guests are invited to visit the museum, before and after their meal to enjoy lite hors d'oeuves, cup cakes provided by Emma Jeans Cupcake & Ice Cream Shoppe, coffee and tea. A cash bar provided by Freitas Package Store will also be available to guests at the Community Center and at the Military Museum.
The Museum will also host entertainment provided by Jazz Duo Ryan Loud & Ben Moniz and a silent auction featuring a variety of unique items on which to bid.
"It was important to our organization to create an event that would showcase the Military Museum and beautiful Fort Taber Park," said Joe Langlois, President of Fort Taber~Fort Rodman Historical Association. "We invite the community to join us for an evening of great food, good conversation and camaraderie as we celebrate the military history of New Bedford and the South Coast region. It is our hope that this fundraiser will become a yearly event that is enjoyed by all."
Tickets for the event are $20 per person and are purchased by dinner seating time. Tickets are available at the Fort Taber ~Fort Rodman Military Museum, 1000c South Rodney French Boulevard in New Bedford, by calling 508-994-3938, or my email at spoyant@gmail.com. Reservations are recommended to ensure seating availability.
FTFRHA is an all volunteer, not-for-profit organization committed to assisting in the restoration, preservation and perpetuation of Fort Rodman and its surroundings. The association and its volunteers operate the Fort Taber~Fort Rodman Military Museum which illustrates the history of the former Fort Rodman military base and preserves the memory of area veterans from the American Revolution through to the current missions in Iraq and Afghanistan. FTFRHA is dedicated to preserving the memory and legacy of area veterans and their service to our nation.
With the funds raised from this event, FTFRHA hopes to continue to enhance and expand the exhibits and programs offered at the museum including military services and ceremonies, community lectures, and military reenactments which are all open to the public at no cost. The funding will also be used to continue to develop the landscaping around the museum and Fort Taber Park.