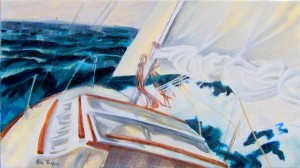 Artists who are inspired by Buzzards Bay are encouraged to submit works for consideration for the exhibition titled, Interpretations: Artistic Celebrations of Buzzards Bay. The exhibit is the result of a collaboration between the Falmouth Artists Guild and the Buzzards Bay Coalition and will be displayed in both Falmouth and New Bedford.
The Buzzards Bay region has long served as inspiration for artists who interpret the Bay and its watershed, from headwaters to harbors, as a place for work, for play and reflection, and to understand the interaction between nature and man. This exhibit will celebrate works that capture the beauty, diversity, and character of the Bay and its watershed.
The call for entries is now open and artists may deliver works of all media for consideration to the Falmouth Art Center (137 Gifford Street) on Monday, August 20th, from 9:30-4:00. Jurying will take place on the 21st and the exhibit will open in Falmouth on August 23rd.
Eligible art pieces must be recent work that has not been previously exhibited at the Falmouth Art Center. While artists may submit multiple pieces for consideration, only one piece per artist will be accepted. Accepted works are at the discretion of the jury panel and all accepted works will be posted on the Falmouth Art Center website upon the completion of the jurying process at www.falmouthart.org.
Additional requirements and downloadable prospectus can be found at www.falmouthart.org or by contacting the Falmouth Artists Guild at 508.540.3304 or info@falmouthart.org.