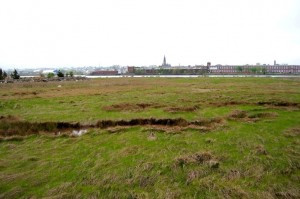 The Buzzards Bay Coalition has added another four acres of land to the expanding Acushnet River Reserve, a major step forward in protecting the river's remaining natural shoreline and wildlife habitats.
The Reserve stretches along the undeveloped portions of the river's eastern shore, from the river restoration at the former Acushnet Saw Mills on the New Bedford/Acushnet line to the salt marsh restoration at Marsh Island in Fairhaven.
The newly protected four acres are spread across two properties in Acushnet and include a mix of forests, wetlands, salt marshes and 235 feet of river shoreline. They are at the center of more than a mile of natural waterfront that make up the view from New Bedford's planned River Trail along the river's western shore.
This land acquisition adds to the 15 acres that the Bay Coalition has preserved over the past two years, as well as about 30 acres of land already owned by the towns of Acushnet and Fairhaven.
"These properties are another piece in the puzzle of protecting the only remaining major stretch of undeveloped waterfront along the Acushnet River estuary," said Brendan Annett, Vice-President of Watershed Protection for the Bay Coalition. "Despite all of the immense challenges associated with the contamination of New Bedford Harbor, it is a tremendous opportunity that the estuary's eastern shore remains in such a natural state.  In the long run, protecting this natural shoreline will have great value for both the ecosystem and our communities."